Today I would like to introduce Haru Komoda's work, titled "100%".
This is Haru Komoda's masterpiece and I am confident that it will become a legendary work in the future.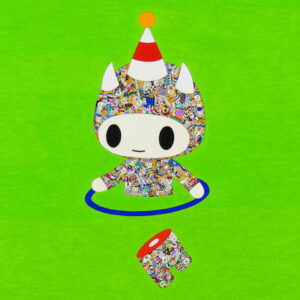 This artwork is the original masterpiece before the digital color changing for other editions. I love a unique and antidilution piece.
It features delicate patterns drawn with a pencil and bright colors. The character and the whole work give adorable rounded impression, but the beautifully cut body with a blue sharp ring is very weird and surreal.
For me, from this work, I feel the appearance of a warrior who is not allowed to cry even if his spirit is hurt.
We will release new artworks soon. Don't miss our SNS!